Template Integrations
Create new integration templates for your users in minutes
Step-by-step
How to build native integrations and publish them inside your app.
1
Drag a trigger into your integration builder, then add actions, field mapping, and logic. Add help and notes to each step to guide your users.
2
Once you have finished building and testing your integration, click to publish it to your app. Users browse and search your integrations directly inside your app.
3
Users can then deploy your integrations in a couple of clicks. Build any UI/UX you like ontop of Cyclr's powerful API.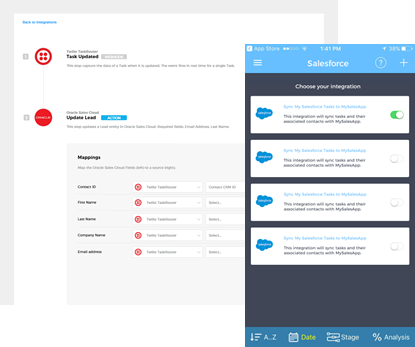 Optionally, you can allow your users to build their own integrations using our drag and drop builder
If you have advanced users, such as developers or citizen integrators, it is also possible to allow access to Cyclr's builder such that they can create their own custom integrations. This can unlock previously untapped value in your API, transforming it from back-end and code-driven to front-end and code-free.

You may be surprised by what your users want to do. We have seen our builder used for full API orchestration of the host SaaS app to create internal platform automations.
Learn more about design tools